According to the Bureau of Labor statistics, over 145,000 employees work in 7,000 warehouses across the US, with number of fatal work injuries amounting to 677 in 2012.
This costs the US $1 billion in workers' compensation every week. The numbers are exorbitant and raise serious concerns about keeping employees safe at work and lowering the cost of workers' compensation.
Common causes of injuries in the warehouse that have been cited by The Occupational Safety & Health Administration are as follows:
Not enough preventive measures taken to control fire conditions
Repeated injuries due to motion
Negligent attitude towards stacking of products
Not using protective equipment
Unsafe use of forklifts
Inability to follow proper lockout and tag out procedures
If warehouse security is on top of your priority game, here's what you can do!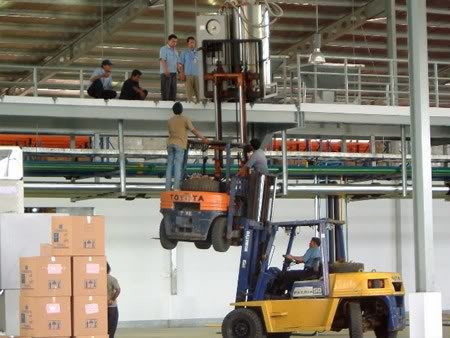 Securing Warehouse Storage
The heart of warehousing lies in ensuring its security, preventing loss of items through theft or accidental injury. One way is to create separate, spacious, shelves to help stack items in a proper manner.
Each SKU needs to be separately stocked to avoid confusion and tumbling over due to overcrowding.
Also the stacks of cartons should not be too high and guard rails may be used to secure them.
Some common warehouse ladders used to access inventory at height include the dual side track caged ladder, folding roller ladder and the steel rolling warehouse ladder.
Simple Yet Effective Ways to Prevent Warehouse Injury
Keeping passageways and aisles free of any physical obstructions or using aluminum crossover stairsto get over potential obstacles.
Fostering a spirit of teamwork whenever required to implement division of labor. This reduces the burden on one individual or machine.
Taking immediate action when any hazardous element is identifying that may cause trips, slips or falls.
Putting a ban on smoking. This is because drugs of any kind can make the mind cloudy and blur vision.
Gloves, masks and eyewear can greatly reduce the impact of the fall in case there is one. And even prevents them in the first place.
Licensed and trained forklift drivers should be recruited. This ensures they have the relevant technical knowledge and experience.
Ensure that workers stack loads in a proper and orderly manner.
Blocking dock doors that may potentially cause a fall
Adhering to load capacities.
Not creating a sense of urgency to avoid trips and falls
Allowing proper rehydrating breaks to prevent mental and physical exhaustion
Besides taking the necessary safety precautions, it is advised that you partner with a reliable warehouse equipment provider.
Industrial Man Lifts makes sure that our aerial access solutions and large selection of industrial ladders are affordable and ensure maximum productivity. Our customization policy allows you to order equipment that suits your needs. Request a quote now!