Truck Mounted Lifts
We have found 2 items matching your search query.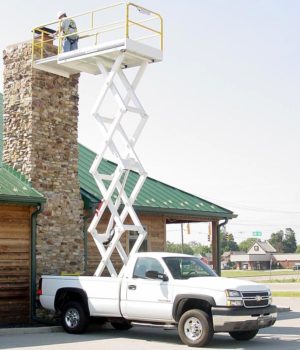 Custom Manlifts
100 In Stock
The Truck Mounted Scissor Lift is a pickup truck mounted scissor lift. The unit offers a rear extension platform and the unit offers a quick disconnect system from the truck. The unit is powered by a
$Call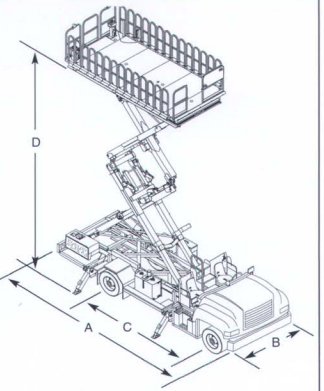 Aircraft Maintenance Platforms
100 In Stock
Truck Mounted Scissor Lift provides working heights of up to 38′ (11.58m) with platform capacities of up to 4,000lbs. (1,814kg). The telescopic scissors assembly minimizes wheelbase requirements
$Call
Truck Mounted Lifts
 When you're in the construction industry, you never really know where your next job site will be. Truck mounted lifts can help you be prepared for whatever a new site may throw at you, while giving you enough flexibility to support multiple job sites at once if needed as well.
When you're in the aviation industry, you never know what kind of maintenance needs an aircraft may need on any given day. You might need to do something as simple as apply a de-icing agent so the aircraft can safely fly. You might also need to make a quick repair on an upper tail component. Truck mounted lifts can take you to the aircraft so a worker can safely access the work that needs to be done.
When you're in the warehousing industry, you never know what maintenance needs may be required of your assets throughout the day. Sometimes something as simple as a light bulb may go out. At other times, you may need to complete a repair to maintain the integrity of your building. Truck mounted lifts offer you the chance to make sure you can maintain your operations.
The truth of the matter is this: truck mounted lifts are one of the most versatile lifting systems that is in our industry today. From trimming trees to cleaning a roof to fixing flaps and rudders, your workers can work on a safe platform where they can work with confidence. You save time, you increase productivity levels, and you have something that is specifically designed to be portable. It doesn't get any better than that.
Contact us today about this affordable lifting option and we think you'll agree that truck mounted lifts are one of the best value investments that is available right now.