According to the Electronic Library of Construction Occupational Safety and Health, an average number of 26 construction workers die each year from using these lifts. The most common causes are electrocutions, collapses, tip-overs or falls.
As such, it's essential that we educate ourselves on the basics of these causes and the safety measures involved for your own protection.
Before Operating a Lift
Always be sure to check for safety devices and fall-protection gear before you start working.
Inspect the emergency and operation controls and look around for any leaks or missing parts. Leaks include hydraulic leaks and air.
Check the area where the lift has to be used. Make sure there are no holes, bumps or drop offs on the ground and stay away from any steep slopes that go beyond the slope limit.
Also, check the area above where you're using the lift for obstructions like low-hanging power lines.
When Using the Lift
Close the platform doors or chains before starting the machine.
Don't stand on the floor of the lift platform.
Don't lean over, climb on top of or sit on the guardrails.
Don't go over the load-capacity limit as listed by the manufacturer. This includes the weight of things like tools etc.
When working at a busy site or near traffic, set up cones and signs as work-zone warnings.
Preventing Accidents
There are numerous steps you can take to prevent accidents when operating an articulating boom lift, or any type of platform.
·
Preventing Electrocution
Power lines must be de-energized. Workers should wear protective equipment and tools as well when working with electrical lines.
Always use an insulated bucket to protect yourself. However, keep in mind that its use will not protect you if you're touching another wire.
Keep all non-electrical workers away from power lines.
·
Preventing Tip-overs
Never drive with the lift platform elevated.
Do not go over the limits set by manufacturer for horizontal or vertical load capacity.
·
Preventing a fall
Full-body harnesses or other devices are a necessity. Make sure that your employer has a positioning device such as a belt in place when working with a boom lift.
In Case of Emergency
If a worker is not able to lower themselves from the aerial lift, keep an emergency plan in check and familiarize yourself with all components of the unit and make sure other personnel are aware of the use of the boom lift.
Buying Industrial Man lifts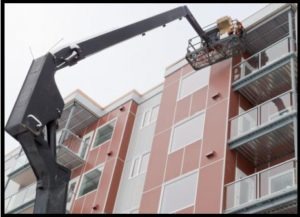 Don't compromise on quality when buying lifts and platforms. A low-quality boom lift can negatively affect your work. Always buy from a reliable supplier.
Industrial Man Lifts is an internationally recognized provider of industrial work platforms and lifts, including rolling platform ladders.
If you want to know more about our products call our 24/7 customer support service at (888) 730-8377 or email us at sales@industrialmanlifts.com.