Ladders are frequently used in industries, workplaces, and even common households. Ladders extending a few feet high are used without any special safety precautions—these short ladders are simple and straightforward.
However, ladders extending to great heights (20 feet or above) cannot be used without the provision of a few safety measures. A ladder cage is one such safety precaution which has been successful in keeping workers safe.
If a fixed ladder is greater than 20 feet in height, OSHA regulations require that ladder is to be fitted with a cage. OSHA specifies in great detail the physical dimensions of the cage and its position on the ladder.
Are ladder cages the only option?
Rope grabs and horizontal lifelines can also be used instead of cages in certain conditions, but they do not provide the same level of safety that cages do. Ladder cages are the most effective way of minimizing the risk of workers falling off ladders and injuring themselves.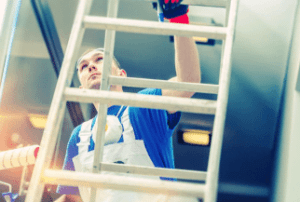 However, there is a chance that a worker might fall off even with the presence of a cage. It is true that cages are of little use for a worker in free fall, but they do provide an extra layer of protection that can save precious lives.
Caged ladders can be helpful
Caged ladders can be beneficial in the following ways:
Caged ladders can be helpful for workers who lose their grip. They can grab onto the caged to regain their balance. The cages were initially meant to provide an extra layer of protection for people falling backward.
Workers can also use the cages to lean back and take a rest to reduce fatigue. Less tired workers have a smaller change of making a mistake and injuring themselves.
Ladders with cages can help companies save money by reducing the chance of employees getting injured. Thus, a company using additional safety measures like caged ladders, will have to spend less money on lawsuits filed by injured workers.
Industrial Man Lifts is a reliable supplier of aerial access solutions for various industrial applications. We also specialize in providing aircraft maintenance platform and other heavy industrial equipment.
We provide all kind of ladders ranging from standard caged and cantilever ladders to complex crossover ladders. Our customers can also request us for customized access platforms and lifts to ensure that their needs are met in better way.
Our friendly customer support team is always ready to answer your queries. To know more about the services and products we provide, call our 24/7 toll free number (888) 730-8377 or send us an email at sales@industrialmanlifts.com