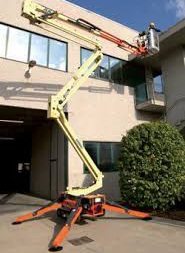 Industrial lifts and work platforms are designed to help you reach heights and provide access to elevated areas. Particular lifts and ladders may be more suitable for some applications.
Boom lifts, also called cherry picker lifts, are designed for use in various applications. It has articulating boom arms which allow one to access out of reach areas and work on a safe platform. The extendable baskets can carry the entire tool range, making it available to the worker.
Boom lifts serve a number of purposes in various industries. These applications particularly include:
Lifting workers to specific heights to store and retrieve items from top shelves
Utilizing the lift for building maintenance and repair jobs such as for painting, window cleaning and façade work on higher levels
Mining and working in underground locations, carrying out groundwork with potentially unsafe work surfaces
Helping utility workers in repairing and servicing electrical and telephone cables
Accessing and working with high-standing billboards
Transporting materials to and from elevated positions from a distance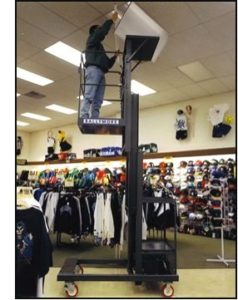 Boom lifts may be powered by a hydraulic mechanism with control over the arm and the bucket. Automatic safety controls are in place to prevent tipping over.
The versatility of these lifts further increases with the ability of maneuvering the lift both vertically and horizontally. Workers can reach to elevated positions while working in a restricted base.
These lifts also have stabilizer legs which make them even more stable. If the routine tasks in your facility require scaling heights, make sure you have an appropriate boom lift to help you get the task done quickly.
At Industrial Man Lifts, we have a variety of boom lift configurations which are useful for several applications. Here are five of the most commonly used boom lifts:
1.Articulating boom lifts : These are designed to provide you access in tight spaces. A tight turning radius can be achieved without any tailswing with most models.
2.Crawler boom lifts – These are specially manufactured for tough terrain jobs.
3.Mast boom lifts – These offer a vertical telescopic mast so you can reach over most obstacles with ease.
4.Telescoping boom lifts – These lifts provide excellent horizontal reach, greater than any of the other boom lift model.
5.Towable boom lifts – These lifts allow you to tackle the same jobs but with easier transport form one corner of the facility to the other.
From construction work to maintenance tasks, boom lifts are efficient equipment for industrial use. Buy boom lifts today for better aerial access. Or, contact us to order customized lift platforms.