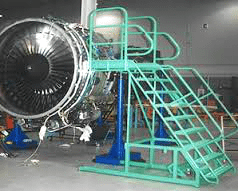 Workplace accidents may range from harmless slips to serious falls. Some of these accidents may even prove to be disabling or fatal. Falling from a height is one of the most common and high risk accidents.
It is important to regulate employee safety and take appropriate steps to prevent such accidents from occurring. Occupational Safety and Health Administration (OSHA) is an agency which regulates and enforces employee safety guidelines.
The organization particularly requires availability of proper equipment and safety solutions for employees working at high platforms or elevated workstations. Aircraft maintenance and other similar tasks in the industry thus require use of the right ladders and platforms.
But how can you select the right aircraft ladder for your application? Here's a short guide:
Size of the climbing equipment
It is an important factor which dictates the proper use of an aircraft ladder. If a ladder is unnecessarily long or short, it can cause fatal accidents. It must also allow storing in an accessible location. Check the base of the ladder to gauge this ability.
Height, width and length must all be checked before choosing a ladder for you business. Platform and working height is directly related to the size of the handrail. For example, a 5" ladder can help you reach a 9" height easily.
Hence, you must consider both the working height and the height of the ladder.
Quality of material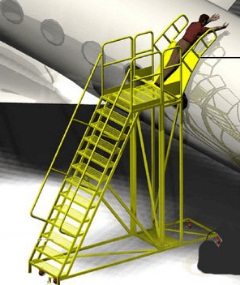 Ladders constructed from high quality materials must be preferred under all circumstances. Only then will you be able to protect your employees against falling accidents. This is especially important when working at elevated platforms or handling heavy machinery.
The right ladder will enable the worker to access all the areas for aircraft maintenance, from engine to the empennage. A choice ladder will be suitable for carrying out repair jobs, inspection, routine service and for overhauling the aircraft.
Equipment style
Aircraft ladders are available in several different styles, ranging from those specially designed for engine maintenance to the ones used for general purposes. These features correlate with particular advantages; however, choosing the wrong equipment can increase the risk of accidents.
We recommend consulting our experts if you're not sure which style you must opt for your specific application.
Duty rating
This is the maximum safe load capacity in pounds that a ladder or work platform can hold. This includes the weight of personnel working with the climbing equipment as well as weight of any equipment or tools carried for the job at hand.
The proper duty rating will be determined by the range of applications you intend to use it for. Check out our featured aircraft maintenance ladders and choose the one that fits your requirements best. We also offer customized lift platforms for specific workplace requirements.