Hydraulic Elevating Platform
Our Hydraulic Elevating Platform Scissor Lift has eight standard models allow four workers access up to 33' working heights.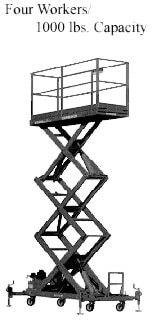 Hydraulic Elevating Platform Specifications:
These 1000 lbs. capacity high-performance Hydraulic Elevating Platform scissor lift work platforms are equipped with low maintenance hydraulic systems and are available with AC, DC, or Air-motor drives.
Custom scissor lifts are available with special deck sizes and configurations, cantilevers and power options. All models have back-up safety features for worker security.
Rated capacity 1000 lbs./four persons

Totally enclosed platform with 42" guardrails, midrails, 4" toeboards and swing-in gate

Large 3' x 8' platform with serrated grating deck to assure secure footing

Built-in ladder provides access to platform in fully lowered position

Boxed scissor members and oversize cross-axles reduce platform sway

Sturdy rectangular base frame with non-marking 8" swivel casters for easy rolling and maneuverability. Casters have combined wheel and swivel locks


Self-storing outriggers extend from base to provide maximum stability [optional on lower height models] 

Leveling jacks secure unit to floor and compensate for uneven surfaces [standard on models with raised deck heights above 15', optional on lower height models] 

Bubble levels indicate proper leveling, essential for safe operation 

Safety Orange

 finish for high visibility 

Meets/exceeds ANSI A92.3-1990 code requirements 

Platform controls: for operator safety both hands are required to change elevation 

Emergency stops:

- located on platform for operator use

Emergency stop also located on base for use by ground personnel. Lockable to prevent unauthorized use

120 volt AC with thermal overload protection

- includes dual contactors for additional safety 

Low voltage platform controlled circuit for additional worker protection

Large diameter cylinders with chrome-plated rams and fluid restrictors 

Low pressure system includes by-pass pressure valve to prevent overload 

Check valve maintains platform elevation 

Solenoid valve provides remote lowering 

Base mounted lowering valve for safe descent in power failure 
CAUTION: Unless special provisions are made, platforms and lifts must not be used for energized bare-wire electrical work or operated on inclined surfaces. When this equipment is used, ground personnel should be excluded from the immediate work area.
Industrial Man Lifts is your aerial access solution provider. 
We can customize any product for any size job. 
Operators always standing by, (888) 730-8377