Hydraulic Drum Crusher/Compactor
Hydraulic Drum Crusher/Compactor Features:
The model HDC-900-IDC crushes 55-gallon steel drums to approximately 6" high and resets automatically to crush another drum in only 25 seconds. This unit is designed for a duty cycle that will allow for crushing or compacting up to 250 drums per week in a typical non-hazardous, indoor room-temperature environment when operated on a three-phase power supply. 
Standard duty equals 10 crushes per hour for 3 hours max or 30 crushes per day. 38,000 pounds of crushing force. The included drum compacting feature allows you to compact contents inside the drum by simply removing the drum crushing platen. Crushing feature will work with any drum size up to 55-gallons. Compacting feature will only work with 55-gallon drums. This convenient design gives you two pieces of equipment in one. Safety features include a pressure relief valve, which prevents overload, and a door interlock system that will prevent the motor from running unless the door is closed. 6.5 hp motor is 460V, 3-phase, 60 hz.
Meets OSHA and JIC standards. Built-in fork pockets aid in transporting. Aluminum Drip Pan, model HDC-DPN, is available for catching any excess liquid that may be expelled during the crushing operation. The pan holds 7. gallons and measures 30″W x 20″D x 3″H.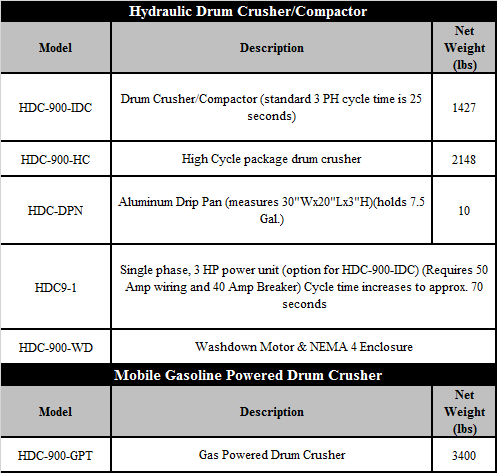 Please contact Industrial Manlifts for specifications and RFQ's.
 Industrial Man Lifts is your aerial access solution provider. We can customize any product for any size job. Operators always standing by, (888) 730-8377.