Die Shelves for Pallet Rack Beams
Die Shelves for Pallet Rack Beams feature solid sheet steel decks that increase the strength and utility of your existing pallet rack locations I Industrial Manlifts (888) 730-8377

Die Shelves for Pallet Rack Beams
Die Shelves for Pallet Rack Beams Description:
IML Die Shelves feature solid sheet steel decks that increase the strength and utility of your existing pallet rack locations. Designed for standard 1 5/8" step beams, these die shelves are available in 2,000 to 6,000 lb. capacities. Options include waterfall edges, backstops with lip up. Finished in IML Gray Enamel. Custom designs and colors are available. Send us your RFQ today!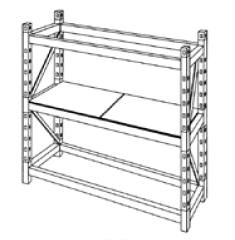 Industrial Man Lifts is your aerial access solution provider. We can customize any product for any size job. Operators always standing by, (888) 730-8377.