Span 400 is a lightweight, fast and easy to assemble tower system with a rung spacing of 400mm. Industrial Manlifts (888)730-8377

Span 400 Mobile Tower
Span 400 Mobile Tower Features
: Span 400 is a lightweight, fast and easy to assemble tower system with a rung spacing of 400mm. With fewer components to stock or lose this versatile ladder frame tower can be used to construct simple free standing mobile towers or more complex staging systems with a host of accessories. The new Z-configuration bracing enables quick, trouble free assembly while providing a very rigid structure.10 year guarantee / warranty Available in narrow and wide widths of 0.74m and 1.37m and lengths of 2m, 2.5m and 3m. Span 400 features the unique high strength Rib-Grip jointing system, guaranteed for 10 years. All standard components have a new extended 10 year warranty. Compliant with EN1004 and Work at Height Directives. Load Class 3. [caption id="attachment_44932" align="alignleft" width="200"]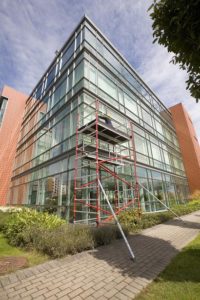 Span 400 Mobile Tower 1[/caption] [caption id="attachment_44933" align="aligncenter" width="200"]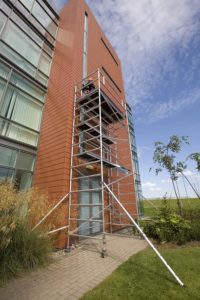 Span 400 Mobile Tower 2[/caption]
Span 300/400 compact
The Span 300/400 Compact Tower is a lightweight, heavy duty tower system designed for accessing restricted areas such as lift shafts. Measuring just 1.2m2 Span 300/400 Compact can be used as a free standing tower and by adding outriggers can be built with platform heights up to 12m indoors and 8m outdoors. When used in restricted areas such as lift-shafts, the tower can be secured with ties to provide working heights in excess of 20m. 10 year guarantee / warranty Span 300/400 Compact features the unique high strength Rib-Grip jointing system, guaranteed for 10 years. All standard components have a new extended 10 year warranty. Compliant with EN1004 and Work at Height Directives. Load Class 3.
AdvanceGuard – Advance Guardrail System
Available for Span 300, Span 400 & Span 500 towers with lengths of 2M, 2.5M and 3M. The AdvanceGuard is a one-piece guardrail which is integral to the build of a mobile tower making it impossible for the user to build the tower without the guardrail in place. The AdvanceGuard replaces numerous braces used in the traditional build method so improves the speed of erection and reduces the number of components required. 10 year guarantee / warranty. The new AdvanceGuard system from Instant takes tower safety to a new level.
Industrial Man Lifts is your aerial access solution provider. 
We can customize any product for any size job. 
Operators always standing by, (888) 730-8377