Hand Winch Lift Trucks
Hand Winch Lift Trucks Features:
Compact lift trucks are designed to lift material to and from shelves, move office equipment, and install ceiling/wall appliances. Constructed of durable steel-and-aluminum. The rugged 4″ wide by 1." thick steel forks measure 22″ long (20." O.D.). Operated by a hand-crank winch that features a reversible handle and a hold-down device for securing the carriage during transport. Forks raise 1″ per complete hand crank rotation. The non-adjustable forks can be inverted to provide different height ranges. Two 8″ non-marking rear wheels, two 2″ front swivel casters.
Optional aluminum ladder, model A-LIFT-LAD, can be retrofitted or ordered with your standard or straddle A-LIFT. Ladder retracts into unit upright when not in use. Ladder measures 18″W x 68."H with 11." rung spacing.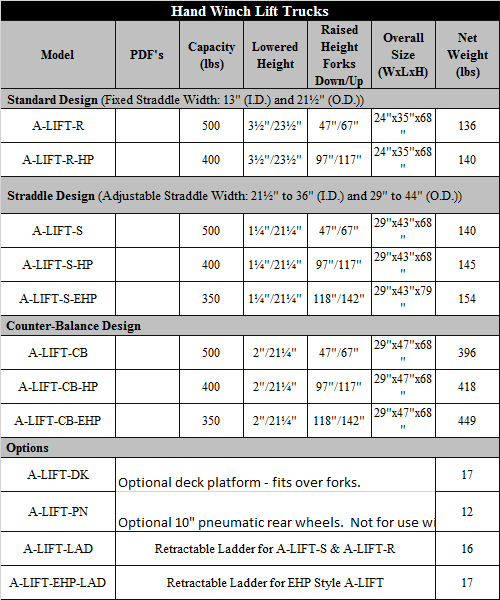 Please contact Industrial Manlifts for specifications and RFQ's.
 Industrial Man Lifts is your aerial access solution provider. We can customize any product for any size job. Operators always standing by, (888) 730-8377.