Boeing 737 Maintenance Tail Dock
Our custom built Boeing 737 Maintenance tail dock is designed to provide complete access to vertical and horizontal stabilizers, APU cavity, as well as AFT fuselage areas.
We can build tail docks compatible with the:
Boeing 767
Boeing 757
Airbus' A300 series
MD80
MD90
Boeing P-8A Poseidon
P-8
LRIP-1
P-3 Orion
P-8A Poseidon
Boeing C-40A and any other you may want or need.
The aircraft maintenance platforms are generally comprised of left-hand (LH) and right-hand (RH) sub-assembly half-docks. Each half-dock consists of a main deck (stabilizer platform) located below three upper-platform catwalk areas, depending on aircraft type.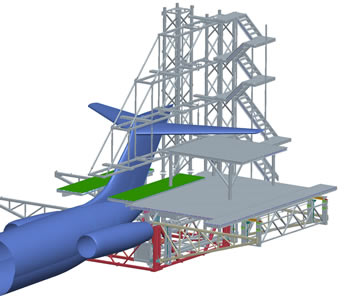 Features:
Constructed fully of Steel or Aluminium and low-alloy Steel connectors
Decking is manufactured Aluminium non-skid tread grip material unless otherwise discussed
A completely welded mobile structure with adjustable heights in the 24′ range unless more is required
Allows versatility both in height adjustment as well as low speed transport
Equipped with swivel casters, tow bars, swivel locks and parking brakes
Use during all aspects of aircraft maintenance, including aircraft jacking operations. Each half-dock can be adjusted in height by using lifts to get it to the desired position and replacing the pins. Similarly the main deck is height adjustable independent of the overall height of each half-dock to precision locate and follow the contour of the horizontal stabilizer of the aircraft.
Industrial Man Lifts is your aerial access solution provider. We can customize any product for any size job. Operators always standing by, (888) 730-8377