Bil-Jax 55XA Self-Propelled Boom Lift
The Bil-Jax 55XA boom lift is part of the range of electrical articulated booms lift for people and material lifting. Industrial Manlifts (888)730-8377

Bil-Jax 55XA Self-Propelled Boom Lift
Bil-Jax 55XA Self-Propelled Boom Lift Features:
The
Bil-Jax 55XA boom lift
is part of the range of electrical
articulated booms lift
for people and material lifting.
Self-Propelled High performance 4WD system provides 4,5 mph drive speed and 45% gradeability. Dual power and a narrow machine width makes the 55XA ideal for indoor and outdoor applications.
Lightweight Low point and floor loading is ideal for applications on lawns, landscaping and sensitive flooring applications. Hydraulic outriggers and automatic leveling capabilities allow users to set up and begin using lift functions in under 30 seconds.
Transportable Weighing in at only 6000 lb (2,721 kg) operators can transport the 55XA on a utility trailer attached to a medium-duty SUV or truck. No commercial driver's license required.
[caption id="attachment_44575" align="aligncenter" width="213"]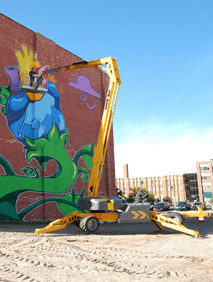 55xa[/caption]
Bil-Jax 55XA Self-Propelled Boom Lift Specifications
Technical data
Working height
61 ft 3 in
Platform height
55 ft 3 in
Horizontal outreach
33 ft 5 in
Turntable rotation (°)
700°non-continuous
Lift capacity (lbs)
500 lb
Height - stowed
6 ft 9 in
Length
21 ft 2 in
Width
5 ft 8 in
Weight (lbs)
6,000 lb
Industrial Man Lifts is your aerial access solution provider. 
We can customize any product for any size job. Operators always standing by, (888) 730-8377