Bil-Jax 4527A Trailer Boom Lift
The Bil-Jax 4527A Trailer boom lift is part of the range of electrical trailer boom lift for people and material lifting. Industrial Manlifts (888)730-8377

Bil-Jax 4527A Trailer Boom Lift
Bil-Jax 4527A Trailer Boom Lift Features:
The
Bil-Jax 4527A boom lift
is part of the range of electrical
trailer boom lift
for people and material lifting.
Best value in the industry! Performance that rivals more expensive 50 ft. models.
Automatic leveling in less than 30 seconds
Best-in-class 12½ degree leveling capability
Telescopic upper boom and platform jib
Negative angle upper boom
Intuitive control system
Multiple function speeds
12½ in (32 cm) diameter non-marking foot pads
Hydraulic surge and parking brakes
Integrated forklift pockets
[caption id="attachment_44596" align="aligncenter" width="382"]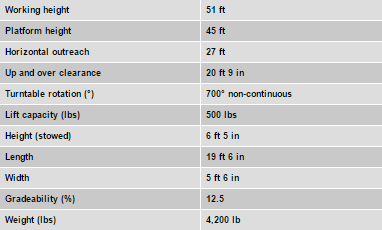 bil-jax 4527A Trailer Boom Lift[/caption]
Industrial Man Lifts is your aerial access solution provider. 
We can customize any product for any size job. 
Operators always standing by, (888) 730-8377