A46JRT Articulated Boom Lift
A46JRT Articulated Boom Lift Features:
Multi-function, variable speed platform controls
Proportional controls
Tilt alarm
Zero tailswing
Hour meter
Flashing amber light
Horn
Power line to platform
Drive motion alarm
ANSI compliant
OPTIONS
Special paint colors
AC generator 110/2kw
Airline to platform
Cold weather package
Light package
Extreme environment package
Environmental green oil
Aircraft package
Deluxe aircraft package
Extreme cold weather package
Protection package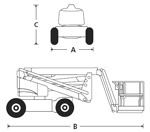 A46JRT Articulated Boom Lift Specifications:
DIMENSIONS
A46JRT
Max. working height
52 ft 11 in
Max. platform height
46 ft 11 in
Max. horizontal reach
24 ft 11 in
Platform size
39 in x 72 in
Overall width (A)
6 ft 10 in
Overall length (B)
18 ft 4 in
Stowed height (C)
7 ft 2 in
Ground clearance
13 in
PERFORMANCE
Platform capacity (SWL)
500 lbs
Max. drive height
46 ft 11 in
Max. drive speed (stowed)
4.5 mph
Max. drive speed (elevated)
0.8 mph
Jib length
5 ft
140 °
140°
Platform rotation
160°
Turret rotation
360° non-continuous
Superstructure rotation
360° non-continuous
Gradeability
22% / 40%
Inside turning radius
32 in
Outside turning radius
10 ft 5 in
Tires
high grip
355/55D625NHS
Controls
proportional
Drive system
4 wheel drive
POWER
Power source
Kubota V1505T Diesel
WEIGHT
Gross weight
14,600 lbs
Industrial Manlifts is YOUR total aerial access solution provider. We can customize any aerial access solution for any project. Operators standing by, (888) 730-8377.