Typically used in various industries for manufacturing, retail, automotive repair, office management and storage purposes, the scissor lift table is an ergonomically designed workstation employed for transporting heavy pieces of equipment.
It facilitates safer palletizing and enhances work productivity by eliminating stressful movements that may cause musculoskeletal fatigue and injury.
The mobile scissor lift is a popular choice, especially since its application allows moving and lifting safely. As a portable workstation, the mobile scissor lift can also be taken wherever work needs to be done. As such, it serves as a functional tool for numerous tasks.
Application of Scissor Lift Tables in the Industry
A varied range of industries use machineries like the scissor lift table for various work functions such as:
Transferring raw materials to the manufacturing machines
Transporting large machinery and equipment
Using platform for vertical positioning of heavy loads
Creating changeable-height work stations
Enhancing productivity during demanding work tasks
Workplace Use for Scissor Lift Tables
Any workplace that requires a specific workstation for efficient palletizing, moving and lifting products can take advantage of these tables. In many case, lift tables provide a quick ROI through the immediate increase in productivity, since its ergonomic function and other benefits augments its continuing value.
Use of Lift Tables for Safety Purposes
According to a press release by the Liberty Mutual Research Institute, overexertion is one of the leading causes of injury in the workplace. This includes injuries due to pushing, pulling, lifting, carrying, throwing and holding. Overall, disabling injuries cost American businesses more than $15.1 billion in worker's compensation costs.
Numerous studies have found that particular tasks in the abovementioned industries do lead to an increase in work-related injuries. By using ergonomically-designed tables that are not only portable but also functional in different ways, these businesses are now seeing a varied change in their work-related injury records.
Common Uses in Various Industries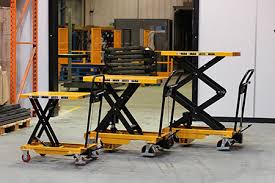 Aside from pallet loading, there are many essential tasks that require the use of a scissor lift table for efficiency and safety purposes, for example loading and lifting, picking orders, palletizing and unloading as well.
Thanks to the adjustable height, scissor lift tables offer the ideal platform through which you can feed raw materials to the equipment. Scissor lifts are mainly used for assembly lines and to lift heavier components. This serves to reduce muscle strain and save time on productivity.
These lift tables are quite useful for lifting heavy vehicle components. Scissor lift tables also allow safer transportation of different parts, thanks to the vertical positioning function.
Choosing Lift Tables for Your Industry
Industrial Man Lifts features a wide range of options in lifts and platforms for all industries.
From mobile scissor lift tables to aerial lifts and other equipment, we have all the equipment you require for numerous applications.
To buy scissor lift tables or to learn the functions of various other lifting equipment, call us 727-490-8839 to get in touch with a representative from Industrial Man Lifts.