With the maintenance for a private plane costing between $700,000 and $4 million each year, it pays to know the right tricks to keep all components of your aircraft up and running. However, this maintenance and care does not connect to the repairs regarding the plane itself.
The smaller components of an airplane, such as the airplane stairs and other equipment can cost more than $10,000.
As a private plane owner, it's crucial that you know how to take care of all the devices, such as the private plane stairs, ladder, lifts and platforms etc. to make sure that there are no extra expenses in the long run.
Tips for Airplane Stairs Maintenance
These following simple but crucial tips should help you maintain your passenger plane stairs.
The airplane stairsor ladder should be painted once each year and be thoroughly inspected for any damages or wear and tear.
Grip tape must be present on all safety components of the ladder.
Safety decals must be in place.
All bumpers must be accounted for so there's no damage to the airplane when in use.
Lights must be working properly.
No component should be rotted, rusted, disconnected or frayed.
Brakes must be in working order at all times.
There must be no leakage or contamination in the hydraulic system.
Unit must be at level. Use a level to make sure the staircase or ladder is perfectly balanced.
Stabilizing legs must be balanced and not bent. Bends can lead to breaks, which can prove to be hazardous.
Wheels and pressure seals must be checked before use each time to ensure that there are no leaks.
Welds must not have any breaks or cracks.
The entire unit must be kept clean at all times so potential hazards can be spotted in time.
Buying Airplane Stairs and Ladders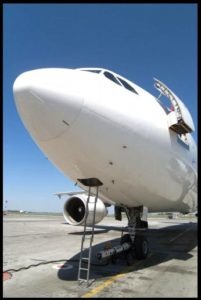 As a trusted supplier in the business, Industrial Man Lifts offers all equipment necessary for private and commercial plane owners.
We provide quality, strength and reliability through our platforms and devices to clients the world over.
If you would like to learn more about our products and methods to take care of them, contact our 24/7 customer support service at (888) 730-8377 or email us at sales@industrialmanlifts.com.