Shopping For Custom Warehouse Ladders From Industrial Man Lifts
Are custom warehouse ladders ultimately right for you? Naturally, whether or not you need something like custom crossover ladders or custom rolling ladders is going to come down to what you're looking for. In that regard, it might not be a bad idea to understand exactly what you're getting with something like a custom warehouse ladder.
If you are purchasing such products for the first time ever, this information can prove to be particularly useful. For all of your needs with custom rolling ladders, or with any custom warehouse ladders you can imagine, contact Industrial Man Lifts. We work with the best, most durable materials, and we make sure that everything we sell meets the highest safety standards possible for ladders. You're going to have ladders that will be flawlessly suited to your specific purposes.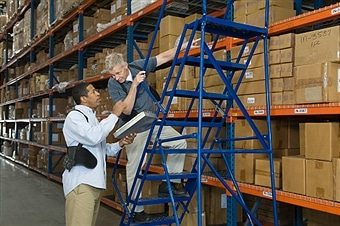 What To Look For In Custom Warehouse Ladders
If you're a newcomer to the world of custom warehouse ladders, relax. It's easy to be intimidated by so many options, but that's why it's such a good idea to work with the best custom ladder company available to you. When you're working with a company that brings a fantastic degree of experience to the project, the end result will be the ladder or ladders you are looking for. Furthermore, you're going to find that end result to be considerably easier to find.
In the first place, understand that warehouse ladders are different from normal ladders. This is because warehouse ladders meet two significant requirements:
Warehouse ladders are going to come with additions like wheels or castors.
Warehouse ladders are going to be completely self-supporting structures.
While there are several different possibilities with warehouse ladders, custom rolling ladders, or custom crossover ladders, anything you are planning to use in a warehouse or industrial setting will almost certainly meet both of the requirements mentioned above.
Warehouse ladders are designed to provide a formidable, reliable safety measure in your workplace. When you have a ladder that has been built to your specifications, you're going to have a product that will give you the degree of safety you are looking for. Furthermore, warehouse ladders make it easy fast and easy to get materials that would be difficult to get to otherwise. This is another reason why it's smart to go the custom order route. Keeping in mind the particulars of your warehouse or industrial area, you should seek to have ladders built that will be ideal for your particular setting.