Manual & Electric Drum Deheader
Manual & Electric Drum Deheader Features:
Convert your closed head steel drums into storage containers with our Drum Deheaders. The DD-9 can be adjusted to open steel drums with different thicknesses. The blade is angled for maximum penetration and flattens the cut edge so there are no sharp or jagged edges. Replacement blades available, model DDB-1.
Quickly remove the head of a steel drum with our Express-Open Drum Deheader! Unique design, model D-HEAD-1, is similar to a household can-opener and is very easy to use. Comfortable handle configuration allows for maximum operator comfort. Includes vice-grip style mechanism for securely attaching unit to drum.
A standard 1⁄2" ratchet drive (manual or pneumatic) must be used to operate the deheader (ratchet drive not included). Inside cutting blade does not leave a sharp edge on the drum. Replacement blades available separately, model D-HEAD-1-B. Both styles open 30 & 55 gallon steel drums and 5 gallon pails.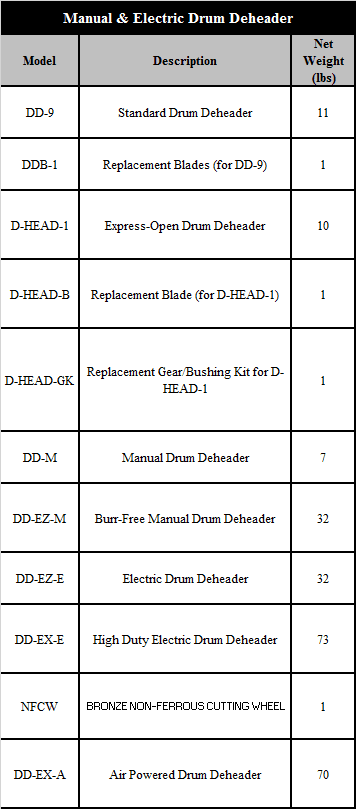 Please contact Industrial Manlifts for specifications and RFQ's.
 Industrial Man Lifts is your aerial access solution provider. We can customize any product for any size job. Operators always standing by, (888) 730-8377.