APV High Speed Tow Vehicle
APV High Speed Tow Vehicle was designed from the ground up specifically for the airline industry. Personnel from all aspects of the industry provided valuable input during the design and development of the APV High Speed Tow Vehicle. The result is a durable vehicle that can be used for many applications. With its structural integrity, the APV High Speed Tow Vehicle will out-perform and outlast any commercially available chassis.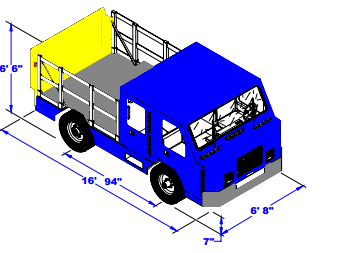 APV High Speed Tow Vehicle Dimensions 
PERFORMANCE SPEC: 
Maximum Speed: 30 mph (48 km/h)
Gradeability: 15%
GVW Rating:14,500 lbs (6,577 kg)
Draw Bar Pull* - 5,000 lbs (1,360 kg) without payload (*Surface conditions may effect draw bar pull.)
Outside Turning Radius :16(4.8 m)
OPTIONAL EQUIPMENT:
Full size or short, pinned, removable bed rails with tail gate.
Hydraulic lift gate on rear.
Air conditioning.
Custom paint.
Tow hooks or pintle hitch front and rear.
Canvas doors.
Flashing or rotating warning lights.
Large mirrors.
Keyed or keyless ignition.
Cab fans.
Back-up alarm.
On board air compressor.
Two or five person closed cab.
Two person open cab.
Call Industrial Man Lifts for custom designed vehicles.
APV High Speed Tow Vehicle FEATURES:
Unequaled upward visibility increases safety when approaching aircraft. Windshield is nonglare, rear window is clear of obstructions.
Chassis Controls: Standard Automotive
Ford CSG-649 Gas Engine (107 hp) or Deutz Turbo-Diesel (83 hp)
Transmission: Ford C-6
Brakes" 4-Wheel Hydraulic Disc with Hydraulic Assist and Mechanical Parking Brake.
Hydraulic Power Assist Steering
Chassis Frame :C6 & C12 Channel
Solid Live Axles with Progressive Springs and Heavy Duty Shock Absorbers Front and Rear.
Component Accessibility: Modular design of engine and transmission assembly allows for quick, simple removal and replacement. A full access hood, along with three easily removable panels allow for complete component accessibility. The APV also features a folddown dash and compartments for the battery, fuse box, hydraulic tank, and master cylinder.
Doors: Heavy duty steel hinged doors with wind protection and replaceable windows.
Gauges: The APV has a full array of waterproof, anti-fog gauges.
Fuel Tank: 25 Gal. (94.6 l)
Head/Tail Lights: Recessed to Prevent Damage
Paint : The APV is covered with two coats of Skydrol resistant paint of the customer's choice. One color per customer specification. (Custom paint by special order.)
Extreme Cold Weather Packages are Available. Heater: 10,000 BTU heater is standard. (Air conditioning is optional.)
Shear Point frame: This unique design prevents serious damage to the frame by offering break-away points that will sheer on impact.
Industrial Man Lifts is your aerial access solution provider. We can customize any product for any size job. Operators always standing by, (888) 730-8377