A -Frame Gantry Cranes
We have found 1 items matching your search query.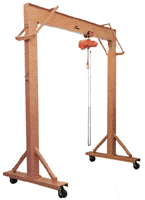 A -Frame Gantry Cranes
100 In Stock
A-Frame Gantry Crane  500 to 10,000 lb. capacities, up to 16 ft. spans and 20 ft. heights Simple, dependable and economical The ideal crane for repair, service, and assembly operations conducted in
$Call
HIGH QUALITY AND EFFECTIVE A-FRAME GANTRY FRAMES
Lifting and moving heavy items requires specialized equipment to make transportation easier and quicker.
As the leading A-Frame Gantry Frames suppliers, we make sure that our clients receive the highest
quality gantry frames that complement their operations. Browse through our collection of A-Frame
Gantry Frames and get in touch for more information.
A-Frame Gantry Frames by Industrial Manlifts provide an economical solution to lifting and moving material safely.Please Call (888) 730-8377.
A-Frame gantry frames make transporting heavier items considerably easier. Explore our collection to find out why we are the best A-Frame Gantry Frames suppliers!