Industrial stairways are used by companies for various purposes. They are used to gain access from one structure level to another, because the nature of the work demands you and your workers to travel regularly between levels.
Secondly, these are essential to provide you access to operating platforms that need regular attention.
For example, for the maintenance of a huge machine that plays a vital role in your daily workplace operations, you will need to rise to certain altitude to be able to clean it and get rid of all the dirt. So, let us take a look at a few other benefits of using industrial stairs.
1.
Provides quick access to places
If the pathway to an area at a high structure level has been blocked due to some reason and there is no other way to gain access to it, industrial stairs provide you a secondary access to get to that place.
2.
Bears heavy loads
These are designed and constructed in a way that they can carry heavy loads. They are wide enough for one worker to easily pass over them at one time.
3.
Safe to use
With standard railings provided on the open sides and handrails provided on at least one side, they can be placed anywhere required and climbed over easily.
These standard railings and handrails ensure safety of workers as they perform their tasks. So, the workers can concentrate on their tasks without having to worry about falling and injuring themselves.
4.
Play an important role during emergencies
These industrial stairs can play a significant role during emergency situations. For example, they can be used for fire exit purposes. Since these are strong, and built according to the requirements of USHA, workers can even use them to shift the goods outdoors with ease, where the goods do not risk getting destroyed by fire.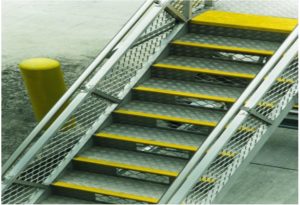 At Industrial Man Lifts, we offer a variety of custom design products to our customers such as rolling work platforms, man lifts, aircraft maintenance ladders, industrial stairs, etc.
These are high in quality and easy to use. Our equipment are designed keeping in mind the mobility and reach of your workers. So, to order our products, call (888) 730-8377 and get in touch with our customer-friendly sales team. Or email us at sales@industrialmanlifts.com.