Aerial work platforms are extensively used in the construction industry and in all kinds of warehouses. Many of these platforms are mobile and can be moved around to access hard to reach areas.
A number of different lift mechanisms are used to raise these platforms for the workers to access areas at various heights. Let's have a look at some of the most commonly used aerial access platforms.
Commonly used aerial access solutions
1.
Mast Lifts
Mast lifts have heights ranging from about 4 meters to 10 meters, but it is also possible to customize them and extend their height.
They are commonly used for accessing areas which are not very high up. These lifts are very popular in offices, shops, and a host of other small commercial entities.
Since mast lifts are quite compact, they can be used in small spaces where movement is restricted. They are designed in a way that minimizes the risk of workers getting injured when using them in cramped areas. They can also be deployed in narrow passageways and come with caged platforms as a safety measure.
2.
Scissor lifts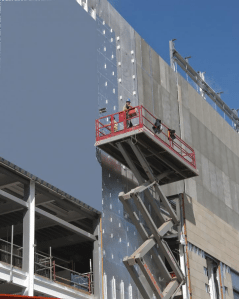 Scissor lifts have a higher vertical access range than mast lifts. Standard built scissor lifts can reach a height of about 34 meters.
These kinds of lifts have many indoor and outdoor applications, but are not ideal for narrow or cramped spaces. However, they have a larger platform than mast lifts and can accommodate several workers at a time.
Their platforms are also fitted with guard rails to ensure the safety of the workers using them.
3.
Articulating boom lift
Articulating boom lifts have an impressive maximum height of 44 meters. The platforms of these lifts can be maneuvered to provide a greater degree of aerial accessibility in a safe manner. They can also be fitted with a number of additional features, like power outlets.
4.
Telescopic boom lifts
In these kinds of lifts, the platforms move vertically upward from the base. They are mostly used for construction and maintenance work in the industrial sector. They have a significant aerial reach capacity and can extend to about 25 meters vertically.
Which type of aerial work platform is suitable for you?
Choosing the correct type of work platform is necessary for ensuring that the efficiency of your workers is optimized. When in doubt, get professionals help. A professional supplier of aerial access solutions will be able to give you the right advice according to your specific needs.
Industrial Man Lifts is a reliable provider of all kinds of industrial work platforms and aircraft maintenance stands. We aim to provide our customers with quality products at highly competitive rates.
You can get in touch with us by calling (888) 730-8377, or by sending us an email at sales@industrialmanlifts.com.