Industrial facilities formerly made use of ladders for climbing and reaching top shelves, storage spaces and heightened machineries. However, these ladders were accompanied with a fall risk. This is why wooden and other ladders are now outdated in most industries.
Lifts of various types, sizes and shapes have now taken their place. These are used for a variety of applications, most importantly shelving and maintenance.
These tasks often look easy but they require working around several obstacles. From pruning trees in crowded spaces to replacing lamps on a high ceiling, an endless number of tasks require lifts to make them doable.
In line with the different requirements of these tasks, several different lift and platform styles have been introduced in the market. Facility managers and their staff can choose from among various aerial lift equipment, most prominently, scissor lifts, articulating booms and telescoping booms.
1.
Scissor lifts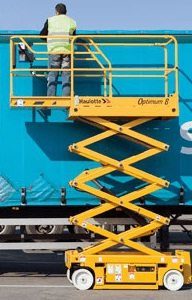 These lifts make use of a lifting mechanism which consists of a stack of tubes. These tubes are crossed and work in a scissor-like manner, when the platform is raised or lowered.
These lifts are specially designed in order to make it easy to reach areas directly overhead. The higher lifting capacity of scissor lifts allows their operators to lift heavy tools and materials with ease.
Our scissor man lift models allow both indoor and outdoor convenience, to facilitate construction, maintenance and contracting tasks. Choose the MP series manually positioned lifts for your application.
2.
Articulating booms
These are aerial work platforms which utilize multiple boom sections articulated together.
Varying in height from mid-size to 140 feet and reaching as much as 70 feet above, these booms can offer access to previously inaccessible locations.
Over different barriers and obstacles, articulate booms give access to spaces like shelving and machinery.
Their beneficial features include a capacity to hold up to 500 pounds and versatile up-and-over positioning. Check out our range of articulating booms to order the ones that fit your facility the best.
3.
Telescoping booms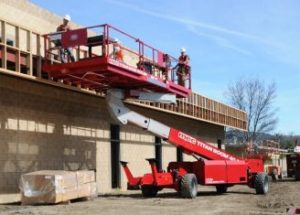 These booms offer more horizontal outreach compared to other options. Their reach ranges from 30 to 80ft. with a working height as much as 131ft. Check out Titan, Genie and several other models.
Simply put, scissor lifts are good for reaching overhead spaces, articulating booms when you need higher vertical outreach and telescopic booms when you require horizontal outreach.
Ready to order industrial platforms and lifts? Call now at (727) 490-8839 and place your order.