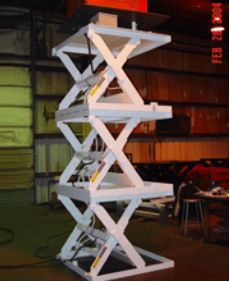 Lift tables are platforms or equipment which can be both raised and lowered, if and when desired by their user. These tables have grown in use in various industrial settings.
In a number of different industries, there is a constant requirement to lift and position tools and other materials to complete a task. Without the availability of proper equipment and devices, these tasks can become highly inconvenient, and often risk workers' safety.
In such cases, workers have to lift these materials and suffer from chronic back pain. Accidental hazards like falling or other injuries can also occur. Furthermore productivity is affected and time is lost too.
In order to improve work efficiency and increase safety on the job, we offer a range of lift tables. Their advantages include:
A stable platform:The platform reduces the chances of various accidently hazards. Compared to heavier machines, these industrial platforms are more efficient in preventing accidents. The risk of accidents increases with heavier machines. Stability of this platform significantly decreases the risk of falling and/ or dropping of tools and other materials.
Adjustable height:The flexibility to adjust the height of these tables is yet another advantage in industrial settings. Multiple users work with these tables and can adjust the height of the platform according to what suits them. The height is maintained even in case of power breakdowns, which further reduces the risk of accidental breakdowns.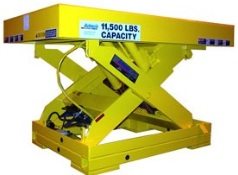 Portable:Lift tables are highly portable, with wheels attached on some of the models to make it easier. The mobile lift tables thus offer a convenient feature for most industrial applications.
Low maintenance:These machines require little to no maintenance. This fits the industrial landscape where high maintenance is not possible. These machines are thus durable and last for longer without needing any lump sum maintenance costs. Without any depreciation, the tables perform for years.
Wide selection of models: Just like the applications and uses differ in various industries, lift tables also offer a huge selection of models to better suit the application. You can find models with lifting capacities varying from 500 lbs. to 120,000 lbs. This makes it easier to choose one which can meet your particular requirements.
Economic:Considering that they require minimal maintenance and are available with various specifications, these machines prove to be highly cost-effective. Facilitating multiple users and minimizing the risk of injuries, further improves their usage.
Browse through our selection of lift tables to choose the ones that bets fit your work requirements. Order today!