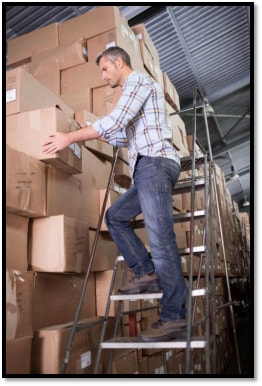 Buying a ladder isn't as easy as it seems. Whether you intend to use it in the stockroom or in your garage, you need to buy one that is perfect for your specific needs.
Let's start with the types.
There are mainly five types of ladders, each of which supports a certain load capacity:
Type IAA ladders– 375 lbs
Type IA ladders– 300 lbs
Type I ladders– 250 lbs
Type II ladders – 225 lbs
Type III ladders – 200 lbs
These ratings indicate the load capacities of these ladders. When buying one, you must include the weight of the person or people who will be using the ladder, along with the weight of the products or material it will be used with. This will allow you to match your ladder to its job.
You'll also have a choice of length and size with ladders. With such items, you need to find one that offers an optimal reach height. This way, you'll use it more efficiently and safely. Here, we're listing the different types of ladders available.
Step Ladder
Step ladders have a classic A-frame design. The ladders are fitted with spreaders that slot in and lock, thereby holding the two sides of the ladder in the relevant position.
Typically, you'll only have steps on one side of the ladder, though ladders with steps on both sides are also available. These are a good choice if there's no surrounding surface which would support an extension ladder. For example, if you're using them indoors for a project.
Extension Ladder
Extension ladders have two sections, one which is a solid base, and a second section that is retractable. This ladder needs to be rested against a surface to maintain traction. It also has a lock function, so it can be locked at the needed height. These ladders can reach several feet higher in height when needed. However, they need to rest at the right angle.
When using the ladder, it's important that you climb and descend with at least three points of contact with the ladder at all times i.e. two feet and one hand or two hands and a foot on the ladder. There are two types of extension ladders available – straight ladders and telescoping ladders.
Platform Ladders
Also called podium ladders, these stepladders have a small standing platform on top. The rail on this platform or surface extends further and offers extra space for a foothold for the user. These ladders offer more security and comfort during use, especially if you're working at a certain height.

Articulating Ladders
These are known as combination ladders or multi-position ladders as well. These ladders are extra versatile in function and are considered to be a great investment, especially if you're using them in warehouses or stockrooms. These are numerous models available, each of which can be configured to provide support for different purposes.
Buy Ladders from Industrial Man Lifts
From stockroom ladders to folding ladders, we have everything you need and more at Industrial Man Lifts!
We provide a wide variety of man lifts and platforms as well as ladders and other equipment and material. Browse our website to explore all options!