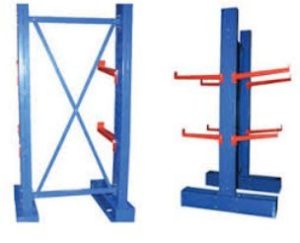 Every warehouse facility comes with its unique set of challenges and needs certain custom-made equipment. This is because they need to store all kinds of products, merchandise and raw materials.
In order that your warehouse space is utilized in the best possible manner, specific racking systems need to be built.
This caters to the handling of material that is large, oddly shaped or too heavy and bulky to be handled manually.
They are also required to be kept off the floor.
A range of cantilever racks, both medium and heavy-duty are available on our online catalogue.
Anatomy of a Cantilever Rack
Cantilevers are characterized by strong and rigid structural beams that firmly hold to the ground at one end with a large base, with vertical racks along their length to support storage material.
An ideal cantilever is assembled of some key components like a firm base, vertical iron columns along with protruding arms and cross bracing.
The cantilevered arms stick out from the columns that act as shelves for storing steel pipes, tubing material, rack beams and lumber. As it can be noticed, all these items are long and narrow in size.
Cantilever racks come in varying capacities depending on the type of material that you want to store.
Advantages of using Cantilever Racks
The versatility that cantilever racks represent is a huge advantage as it can be used in both configurations; single and double-sided.
For warehouses that have a capacity of storing items along the wall, use single-sided systems. Double sided cantilever racks are used for storing materials on double sides.
Another added advantage is the option of loading material from the front side of the cantilever rack without having to face any hindrance from the upright pillars which other systems have.
As long as the capacity and the load specifications are kept in mind, the cantilever rack can be customized with the addition of arms and cross braces.
Why Choose Industrial Man Lifts As Your Provider For Cantilever Racks?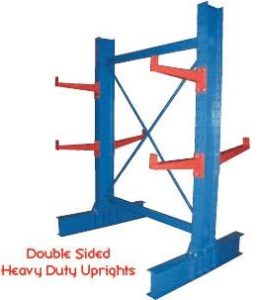 We at Industrial Man Lifts are known for our custom and design products from man lifts to work platforms and ladders. Our aerial access solutions are specifically configured to meet the storage spaces of different warehouses.
We make sure that our cantilever racks help you save space both vertically and horizontally. This helps save your inventory in an economic way and ensures easy retrieval.
Your storage investment will not go waste with our adjustable heavy-duty cantilever racks; they are designed to house all kinds of heavy storage material.
We are your aerial access solution provider; feel free to contact our technical sales representative if you cannot find the desired size in our online catalogue. We are here for your assistance.