There are different kinds of industrial ladders used for a variety of applications. If you have little idea about ladder types and their uses, keep reading to learn the basics of some of the commonly available industrial ladders and the applications they are used for.
Why is it important to know about ladder types and their applications?  
The answer to this is simple.  You need to know the basis about industrial ladders to make the correct decision when choosing a ladder for a specific task.
You must first determine which kind of ladder will be most appropriate for the task at hand.
Common industrial ladder types
Ladders are made using materials like wood, plastic, aluminum, and steel. Most industrial ladders are metal based because they are required to be more durable. Aluminum ladders have become very popular because they are lighter than steel ladders and are not affected by corrosion. Some of the commonly used industrial ladders are:
1. Step ladders
The step ladders are the most popular kind of industrial ladders. They can support themselves and are extremely portable.
These ladders are being used in industries as well as in homes for repair work and installation of fixtures and fittings.
The two sub types of step ladders are the simple front step ladder and the twin step ladder.
2. Extension ladders
The extension ladders cannot support themselves but they can be extended to become longer to reach higher places.
These ladders are made of two parts; the first is called the base and the other is called the fly.
When the ladder is extended, the fly moves along the base and the length of the ladder increases. They are mostly used in homes, and for repair work, which is not at a great height.
3. Folding ladders
Folding ladders can be folded and easily carried around. They can support themselves, but are not known for bearing very heavy loads. They are mostly used for domestic purposes and some of them include safety features.
4. Platform ladders
These kinds of ladders have a platform on the top with a rail guard for safety reasons. They are the preferred option for tasks which take a long time to complete because they are more comfortable than the other types.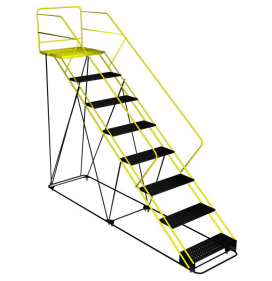 Where should you get your ladder from?
Industrial Man Lifts is an aerial access solution provider based in St. Petersburg, Florida. We are one of the tops suppliers of industrial maintenance platforms. We are also the leading stainless steel ladder supplier in the region.
We design ladders made form fiberglass, stainless steel, and aluminum. Our ladders our durable and cost effective and they meet all the safety regulations set by OSHA.
To order our industrial ladders, call us at (888) 730-8377 or send your order via email at sales@industrialmanlifts.com.