This is a common question you might have if you're not familiar with the workings of each option.
In some cases, aluminum ramps aren't just a better option, they're a safer option. However, they're a bit more expensive and delicate than the steel ramp. Yet, there is still a competition between the two.
Here, we shall discuss the application of the two, and determine which would be the better choice for your needs.
Discussing the Difference between Aluminum and Steel Ramps

The Three Primary Factors
Considering the above, we get a good idea about the applications and suitability of both the options.
Even though the manufacturing process of each is different, the end cost is pretty much the same. So whichever you choose, there won't be a considerable difference in price. What's left is durability.
The environment you use the yard ramps in can help you determine your choice. If you won't be using the ramp as much, and would only be using it as a safety tool, an aluminum ramp would do just fine. However, if the ramp will be regularly used, you may need to switch to a cheaper steel ramp. More durable than the aluminum ramp, this ramp will serve your purpose.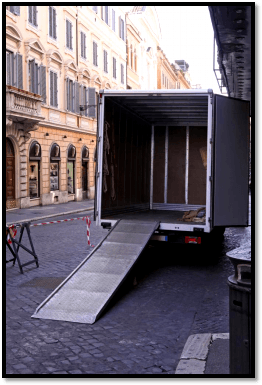 So Why Not Simply Buy The Steel Ramp?
Because aluminum ramps are much safer. Steel ramps can cause sparks when moved or scraped against the ground. And that can be dangerous if you work in a risky environment. For example, if you work in munitions production, fertilizer distribution and warehousing or in an oil refinery or oil production company. In such cases, an aluminum ramp would work well in serving its purpose while keeping people safe.
Looking for a Ramp?
Industrial Man Lifts offers steel and aluminum yard ramps for a good price.
We also offer other industrial ladders, rolling platforms, mobile scissor lift tables and more. Click here to check your options!