Industrial work platforms have many different applications in a variety of sectors. They are commonly found at construction sites and in the manufacturing industry.
Various kinds of work platforms are also employed in warehouses and other kinds of storage facilities.
When choosing a work platform for your business, you need to consider the safety needs of workers that will be using it. You will also have to consider the environment in which the platform will be deployed, and the accessories it will require to help the workers perform their tasks.
Modular platforms are widely used for industrial applications. However, they are not the only kind of work platforms that are provided by industrial equipment suppliers.
In this blog, we discuss some of the other kinds of platforms that are used as alternatives to modular platforms.
Types of industrial work platforms
There are three main types of industrial platforms commercially available in the market:
Modular platforms
Fabricated platforms
Hybrid platforms
While modular platforms are quite popular for a variety of applications, many companies prefer to use fabricated and hybrid platform for specialized tasks.
Let us have a look at the major characteristics of each one of these platforms:
Modular platforms
Modular work platforms have a standard set of features that make them an ideal choice for general purpose tasks.
They are cheaper than the other platform types, but are not customizable according to the needs of the users. These platforms can be obtained from suppliers quickly as they are pre-designed according to standard industrial specifications.
Fabricated platforms
These kinds of platforms are built according to the specifications of the customer and have all the necessaries required for the successful completion of a particular task. Every aspect of a work platform can be modified to meet the needs of the crew that will be using them.
Various kinds of accessories, such as extra guard rails and holds, power outlets, and hydraulic pressure valves, can be added to work platforms to facilitate workers. Even the placement of the stairs and the height and width of fabricated platforms can be tailored according to the preferences of customers.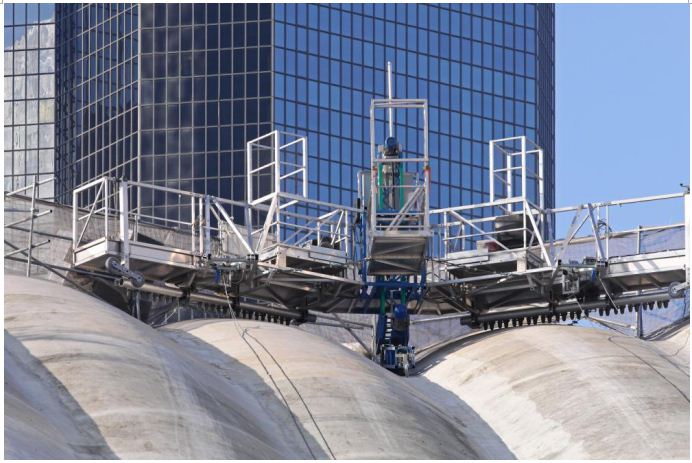 Since fabricated platforms can be completely designed according to the requirements of the customers, they are most suitable for highly specialized tasks.
These platform types usually cost more than the modular ones, but, in most cases, the advantages they provide far outweigh the additional cost.
Hybrid platforms
Hybrid platforms are simply a mixture of modular and fabricated platforms. They are mostly modular in design with a few alterations made to some of the features. Hybrid platforms are not as costly as modular platforms and require less time to redesign and manufacture than fabricated work platforms.
Industrial Man Lifts is a well-known supplier of Boeing 737 tail docks stands, aviation maintenance platforms, aircraft maintenance platforms, and various other kinds of maintenance equipment at affordable rates.
For more information about our products and services, call our sales team at (888) 730-8377.