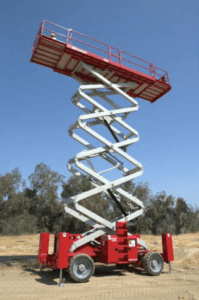 Scissor man lifts, like other industrial lifts, are intended to make indoor and outdoor operations easier in different work settings. These are particularly useful for reaching the top of walls and ceilings, for maintenance or paint jobs.
These lifts can be pneumatic, hydraulic or mechanical. These specifications are usually designed around their intended use. It can raise a worker as well as all the tools necessary to get the job done.
In this regard, the lift contributes towards ensuring safety at the work environment. Here are a few other features that make the use of scissor lifts safer than other options.
1.
Large platform
These lifts have a considerably large platform compared to the ones which come in conjunction with industrial ladders. This means that a number of workers can be lifted together, along with their equipment.
Workers can also safely access a wider expanse of ceiling and walls, without needing to reposition the lift every time. This is a real problem with ladders which pose a safety risk as well.
2.
Strong and versatile machines
Most of these platforms can hold up to 680kg, all the while extending up to 18m high. Hence, both workers and their equipment are raised effortlessly to their required height.
Furthermore, the lifts can be paused when it reaches different heights, if and when required. This allows the workers to deal with the vertical expanse of walls.
Scissor lifts are also compact and can be easily store when not in use.
3.
Safer than ladders
In contrast to ladders, scissor lift platforms are equipped with safety features, to prevent falling and other accidents. This keeps the workers safe while they're busy with the task at hand.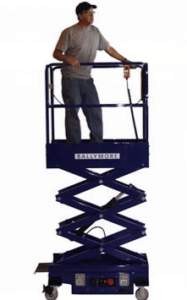 The whole platform has a railing around it and the mounting and dismounting area is gated too. Workers often also need to wear a safety harness which can be clipped to the railing.
4.
Indoor option: electric power
If most of the job is done indoors, opt for lifts that come with an electric battery. This ensures that harmful fumes are not release inside.
Note that the indoors lifts have narrower platforms than the ones designed for outdoor use. Indoor lifts are also equipped with tires that don't leave marks behind. This makes them not only cleaner but also safer to use.
5.
Freestanding machines
When it comes to using a ladder, you have to make sure that it is properly laid against a wall. This can restrict your movement and ability to access adjacent spaces. However, scissor lifts are completely freestanding, making it easier to reach a larger area.
Ready to choose a scissor lift for your application? Then browse our selection and order today!