Wood Track Library Ladder
The Wood Track Library Ladder has been in use since the 1920's. In this time Oak Track Ladders have adapted to many applications, the most common being bookstores, libraries, and shelving access for retail stores. The furniture grade quality appearance adds to the appeal of the ladder, especially in home libraries and retail floor environments. In addition, many other wood selections are available, as well as various stains.
Dimension and Installation Characteristics
Overall width of ladder is 16″, approximately 28″ across bottom wheels.
Angle with floor is 80º.
Ladders are mannufactured to exact track mounting height required.
The track is normally placed in line with a shelf no more than 3 feet below the top of the highest merchandise to be reached.
Track heights above 13′ 6″ are not recommeneded.
Aisles greater than 36″ wide generally require ladders on both sides of the aisle to reach merchandise safely.
Ladders project above the top of track 4″.
One ladder is recommended for every 20 to 30 feet of track.
The horizontal distance from the face of the protruding merchandise to the center line of track should be more than 1 1/2″ to clear the upper fixtures.
Also, brackets should never be installed by screwing directly into the front edge of plywood uprights or shelves because the fastening strength may in insufficient.
| | | | | | |
| --- | --- | --- | --- | --- | --- |
| Track Height in Feet | 6 | 8 | 10 | 12 | 14 |
| Horizontal distance, base of shelving to outside of ladder in climbing position in inches. | 20 | 24 | 28 | 32 | 36 |
| Minimum aisle width in inches to use ladder | 30 | 34 | 38 | 42 | 46 |
| Approximate shipping weight of ladder with upper and lower fistures in pounds. | 34 | 42 | 50 | 58 | 66 |
Straight Side Ladders come complete with #33 fixtures, #57 bottom fixtures and double-sealed oak natural dinish
Vertical Distance Floor to Top of Rack

More Than

9′ 6″

10″ 6″

11′ 6″

12′ 6″

13′ 6″

Up to and including

9′ 6″

10′ 6″

11′ 6″

12′ 6″

13′ 6″

14′

Additional Charge for #36 Swivel Upper Fixture
Additional Charge for Special Walnut Finish
Additional Charge for Side Mounted HandrailsTo order Straight Side Ladders:
1. Choose the upper rolling fixture required – #33 or #36 for curved track.
2. Calculate the distance from the floor to the top of the track.
3. Choose the type of track mounting brackets and specify the number of track runs.
4. Optional features are available including special walnut finish, handrails and abrasive treads.
Track and Brackets for Straight Ladders
TrackNo.78 track is a special 15/16″ diameter steel tube with a longitudinal slot. Furnished with a chip-proof, scratch resistent black oxide finish. S traight track is available in 10′ lengths. Curved track sections are made from 10′ piece with a 30″ radius, 90° curve in the center. They are furnished for inside corners only. For outside corners, two separate runs of track are required.Track Support Brackets And End Support BracketsA wide selection of brackets is available to support the No.78 track. All are made so that they can be slipped into the track through the slot to the desired position before fastening to the shelving. These brackets are constructed of malleable iron or steel and finished in black enamel. Approximate shipping weight of track with brackets is 1 lb. per foot.
For each end of a track run, end brackets designated by the suffix "E" are furnished with steel stops to prevent the ladder from rolling off end of track. Intermediate or center brackets are designated by the suffix "C".Brackets For Use With No.33 or 36 Upper Fixtures OnlyL10: For fastening on top or under side of shelving, generally with pan head screws.
L11: Similiar to L10, but allows up to 2 1/2″ of additional space between track and face of shelving.
L11T: For mounting on vertical side of an upright.
L15: For mounting on front edge of upright.
L17: Same as L15 but provides 1 5/8″ additional space between track and face of shelving.
L56: For mounting on front edge of shelf where other brackets cannot be used. Compatible with L15 brackets, can be used as intermediate to L15 where uprights are spaced greater than 4 feet. Made in 2 parts for convenience in mounting.
Brackets For Use With No.33 or 36 Fixtures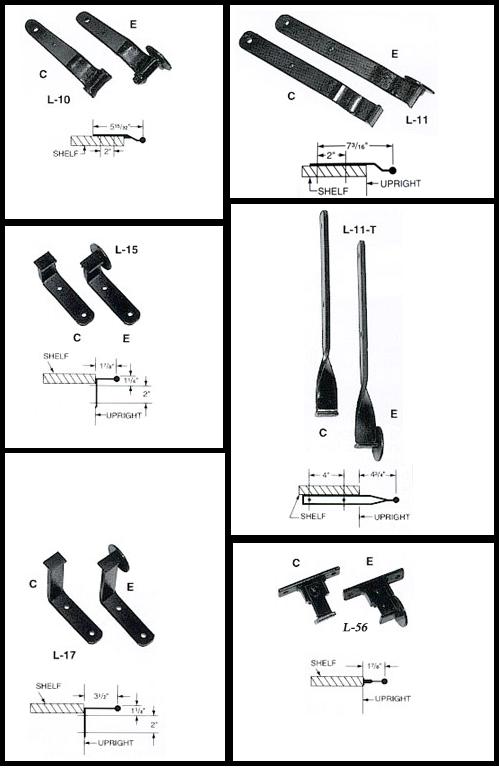 Designed to the strict guidelines of the American National Standards Institute (ANSI) and the regulations of the Occupational Safety & Health Administration (OSHA). Continuously being tested, improved, redesigned, and even customized through direct involvement with customers. Multiple manufacturing locations for lower freight costs, less damage, and quicker delivery.
Ships anywhere in the United States and Internationally.
Industrial Man Lifts is an aerial work platform and aerial access solution provider. We can customize any aerial access solution to fit your needs. For more information or to order, (888) 730-8377