Custom maintenance platforms play an important role in the industry by helping the workers to make their life easy. Different types of maintenance platforms are available in the present world and industrial workers can select the ideal platform after considering their requirements. These maintenance platforms are available in standard sizes and they will not be able to help all the workers in an effective way. Therefore Custom Maintenance Platforms have come to the present world and workers can use them to reach every corner of their industrial work.  You can contact a Custom Maintenance Platform manufacturer in order to get your customized platform. A wide range of maintenance platforms can be seen in the present world and you have the ability to customize most of them.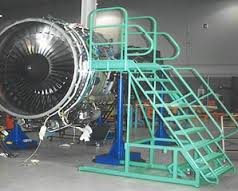 Helicopter maintenance platforms are custom maintenance platforms that will assist you to access the maintenance areas of an aircraft. Therefore they are very popular in the aircraft maintenance industry.  The aircraft maintenance workers will have to work with different types of planes and helicopters. Therefore they will not be able to find the ideal maintenance platform for a particular situation. Custom maintenance platforms will assist them with that and it can be considered as the main reason behind their popularity. They come in different configurations and options that will allow the workers to fulfill their specific needs with less hassle.
If you need to use a lightweight maintenance platform for a particular situation, you can go for an aluminum construction. They are often mini-finished but can be powder coated to enhance the durability. Steel maintenance platforms usually comes with a powder coated design, but they can be galvanized to enhance the resistance to different elements. The custom helicopter work stand manufacturers offer many powder coat colors at no extra charge. Both aluminum platforms and steel platforms can be all welded or deployable. Deployable stands usually cost more, but some of the extra cost will be recouped in lower freight prices.
Most helicopter maintenance stands are a fixed height and have fixed platforms dimensions.  Some stands have 2 or more platforms allowing access to different maintenance areas of the aircraft.  Adjustable height stands are also available.  Stands can have extendable platform units allowing the stand to adjust to the outline of the aircraft.  This feature reduces the risk of a maintenance worker, tools and supplies falling from the platform. Bell helicopter maintenance platforms, Sikorsky maintenance platforms and Eurocopter maintenance platforms are some popular custom maintenance platforms available in the present industry. Many people tend to purchase them without any hesitation in order to make their work easy. You can contact the aircraft maintenance platform provider and get your customized platform within a short period of time.
Industrial Man Lifts is your aerial access solution provider. We can customize any product for any size job. Operators always standing by, (888) 730-8377
[toc]