How to Choose an Industrial Ladder
Consideration:
Consider the best material, tread and tread design for your needs
Review specialty ladders for unique requirements
Select platform height based on operations to be performed or weight and bulk of object to be carried. Maximum convenient working height is generally 5 – 6 feet above the top step or platform
Minimum ceiling height should be 6 – 7 feet above the top step or platform
In larger ladders, choose a wide ladder over a narrow one if space permits For very bulky loads, consider a stairway slope ladder and / or deeper top steps
Take into account whether people must pass the ladder in aisles and where it must rest when not in use
Consider limitations on ladder dimensions imposed by doorways, overhead obstructions, corners to be turned, etc.
Trays and shelves are available to hold merchandise while on ladder 9. For unusual conditions or applications, please call for recommendations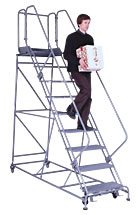 Step Threads:
Expanded Metal Treads provide a slip-resistant surface to give you better traction. Their self-cleaning design allows dirt and debris to fall through the tread, making them perfect for warehouse applications. Available on steel ladders. (X Tread)
Abrasive Mat Treads are ideal in areas with less dirt. Their abrasive surface provides the non-slip footing you need for safe climbing, making them the best choice for many office/retail applications. Available on steel ladders. (R Tread)
Heavy Duty Serrated Grating is ideal for the most severe wet and slippery conditions. The ultimate in slip-resistance and self-cleaning. Flow-through construction. Available on steel, aluminum and stainless steel ladders. (G Tread)
Perforated Treads provide excellent slip resistance, and the design is used extensively in retail and storeroom applications.(P Tread)
Shelves & Trays:
Drop Shelf
16″ wide PDS20
24″ wide PDS30
10″ deep. Factory installed on rear guardrail. Lowers to vertical position when not in use.
Flat surface.
Hanging Shelf
16″ wide PHS20
24″ wide PHS30
Removable 10″ deep shelf available for field attachment. Horizontal position only, does not drop.
Flat surface.
Folding Tray
7″ x 24″ folding tray.
Mounted on top rail.
Requires deep top step and 24″ tread width.
Raised sides.
Hanging Tray
Removable 10″ x 24″ tool tray.
Attaches in field to rear rail.
Fixed horizontal position.
Raised sides.
Material Type:
Steel
Aluminum
Paint free
Non-magnetic
Non-sparking
Endures frequent washing
Non-corrosive
Stainless Steel
Rugged
Paint free
Endures frequent washing
Non-corrosive
Locking Mechanisms:
Weight Actuated Lockstep
This Patented state of the art lock step automatically actuates when 70 lbs. of weight is applied to the stair section. Safest most durable lock step on the market today.
Standard Lockstep
Ideal for applications over 5 steps. These ladders are raised into the rolling position when the lock step is actuated. Releasing the lock step drops the ladder into the climbing position with the feet firmly on the floor.
Spring Loaded Casters
Ideal for shorter ladders 5 steps and below. On this style ladder, the wheels retract under the user's weight securing the ladder to the floor.